Our Computers
Learn about our public-access computers!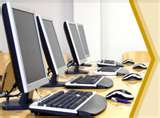 We offer free use of our public computers to all library patrons and visitors.  All are state-of-the-art computers with flat-screen monitors for optimum ease of use.  All computers are wireless  Internet-enabled and have a variety of software products installed, including popular office software.  For those wishing to use their own laptops or mobile devices, our Wi-Fi access is free of charge.
Each computer has a link to the TexShare Databases, a service provided by the Texas State Library and Archives Commission.  These databases contain magazine articles, encyclopedia entries, and other sources for locating facts on any subject.  Multiple additional links are available for a wide variety of users and their varied interests.
All library computers have been equipped with monitoring software to ensure that users do not access unsafe or undesirable sites.  This program ensures the safety of our users, as well as bystanders.  Our foremost concern is for all patrons, especially our children.
Recently we purchased iPads and configured them to duplicate the iPads used in Clifton ISD for use in the library for additional study by pupils.